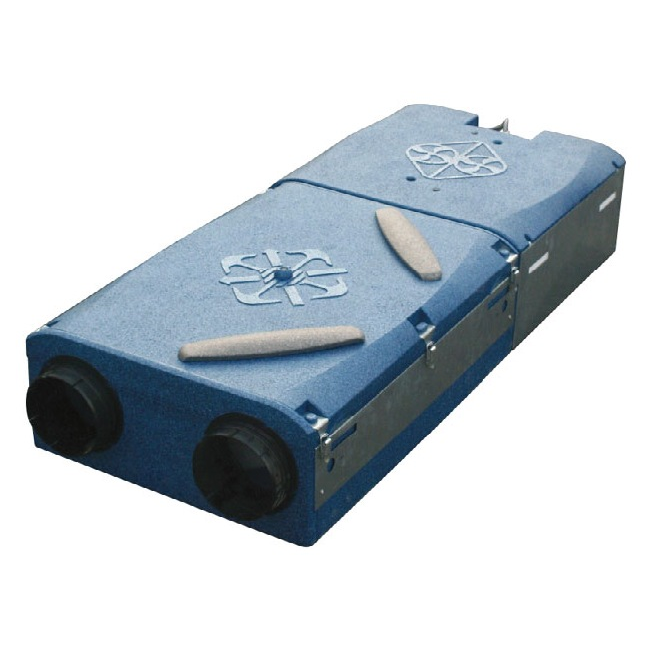 Sold out
---
The DeeFly Micro watt 90 is a state of the art ventilation and heat recovery unit intended for use in houses and apartments. It has a heat recovery efficiency of up to 90%.

Warm humid air is removed from bathrooms, utility rooms and kitchens. It passes through a heat exchanger before being discharged outside.

Fresh air is drawn in from outside. It is filtered and warmed by the heat exchanger, recovering approximately 90% of the heat from exhaust air before being distributed throughout the house.
Benefits:
Improved indoor air quality.
Fresh filtered air ventilation reduces concentrations of allergens.
Reduction or elimination of growth of mites and moulds.
High Energy efficiency through recovery of waste heat from exhaust air.
Improved Energy rating for the dwelling.
Simple to use and maintain.
Features:
Up to 90% heat recovery efficiency.
Very low power consumption.
Virtually silent in operation.
Flexible installation options - Fan section and heat recovery section may be installed in different locations.
Low weight and high level of thermal insulation due to use of Expanded Polypropylene (EPP) construction.
Simple control panel installed in kitchen with 'boost' function for times when higher airflow is needed.
Automatic filter condition indicator.
This is a special offer stock clearance and limited stocks remain - first come, first served.   Note: This clearance item is priced to sell and no additional trade discount applies. Acceptable payment methods: In advance - Credit Card / Bank Transfer. Clearance items may be used/demo/refurbished but are in full working order and come with a 90 day warranty. The standard RVR return policy applies.
---
Click to download:
Dee-Fly Leaflet
Dee-Fly Instructions
---
Please note that products may differ slightly from the images shown.