RVRPAK Pre-packaged boiler systems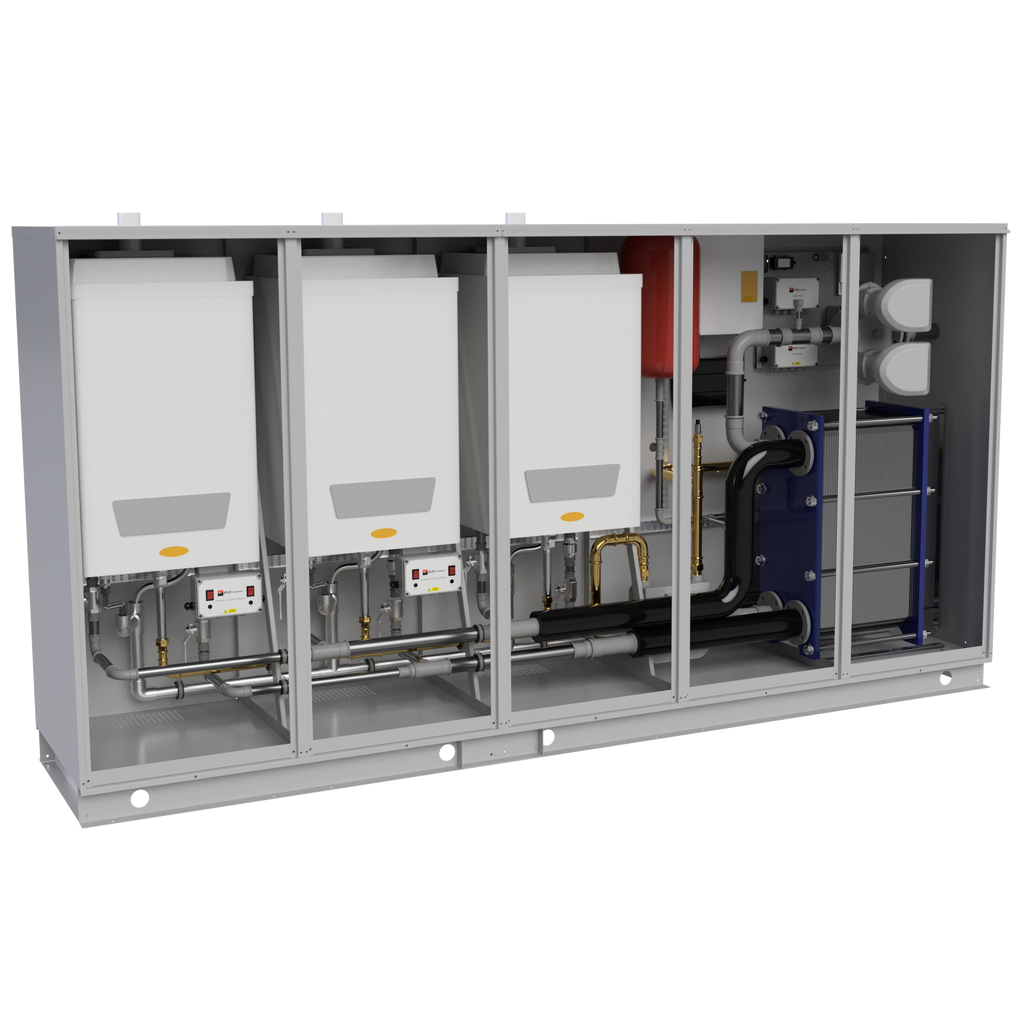 RVRPAK is a modular solution which can accommodate up to 5 no Immergas Victrix PRO 120kW boilers in a weatherproof galvanised steel enclosure.
All piping and wiring is done in the factory, and pre-tested before delivery to site. Simply connect gas, water and condensate pipes. Make the electrical connections, and it is ready to use.
It offers a compact, high quality solution ideal for use in narrow spaces. Suitable for outdoor or indoor use, it can eliminate the need for a dedicated plant room or boiler house. It greatly simplifies piping, flueing and electrical services on-site.
Delivered factory pre-assembled, it reduces costs and increases speed of installation. Quality is improved by ensuring correct design and installation. Welding is eliminated and there are no troublesome internal flue systems.
The modular nature allows the creation of packaged boiler systems of any desired capacity up to 600kW. The assembled modules may be handled by crane or forklift.
Easy to deploy
Fits through a standard doorway
Suitable for indoor or outdoor use
Offers great flexibility of location
Suitable for use in narrow outdoor spaces
Ready to go
Designed for ease of installation, operation, and service
Delivered to site ready to go
Just connect water, gas, drain and power
Factory pre-assembled, pre-piped and pre-wired
Pre-tested 
---
The RVRPAK can be customised to suit your specification. Please contact us for more information at info@rvr.ie or by phone at 064 6689522.

In need of a greater capacity? We also offer a larger packaged plant room - the RVR Boiler House - a packaged boiler room which provides capacities up to 1.8MW.  Contact us for details.
Want to know more about our commercial boiler house product range? Download the Commercial Boiler House Products Catalogue.
---
Please note that products may differ slightly from the images shown.