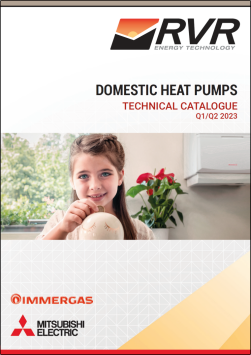 RVR Energy Technology can supply a heat pump for any project – whether New-build houses or apartments, Retro-fit in recent homes or Retro-fit in older homes.
Our technical catalogue - which is handy for installers and other technical customers - contains information such as dimensions, capacities, connections, specifications, schematics and more for our entire range of Immergas and Mitsubishi domestic heat pumps, cylinders & accessories, radiators and underfloor heating. 
  -or-  
Solutions for every project
✅ For new build houses, the Mitsubishi Ecodan range is ideal. Ultra quiet outdoor units coupled with pre-packaged or pre-plumbed cylinders make a new installation a breeze. 
✅ For retro-fit in recent homes, the Immergas Magis Pro is a great choice.  The indoor unit shares the same dimensions and connections as a gas boiler, so is the perfect replacement.  The existing cylinder and radiators can often be re-used. 
✅ For retro-fit in well insulated older houses, the Immergas Magis M is a great option with the flexibility to deal with varying plumbing arrangements.
✅ For retro-fit in less well insulated older houses, the Immergas Magis Combo is a superb choice.  It can be installed in almost any home without replacing the radiators or cylinder, regardless of insulation upgrades.
✅ For new build apartments, the Mitsubishi Ecodan Hydrodan is an ideal option - a W/W heat pump which can provide DHW and heating within the apartment from a primary loop supply.  
Why choose RVR Energy Technology?
RVR Energy Technology has over 40 years of experience in supplying heating equipment in Ireland and has been supplying heat pumps for more than 15 years. 
Our aim is to accelerate a sustainable future in Irish building heating & cooling.  Our heat pumps heat homes, schools, hospitals, hotels, leisure centres and more.
Let us put our experience to work on your project. RVR Energy Technology can design a suitable system, provide the relevant documentation and provide excellent after-sales support via our in-house Heat Pump Technical Services team.
Why not try us on a project today to see how we can make your life easier?  Please contact us today on 064 6689522 or email sales@rvr.ie.