Basic SOL V2 Solar Package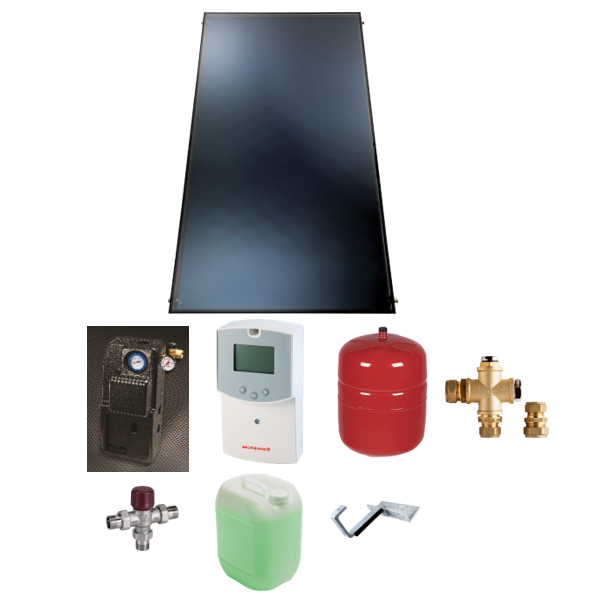 ---
These high-efficiency flat plate collector kits contain the essential components required to install a solar hot water heating system.  The matched components provide excellent efficiency and performance.  Installation costs are reduced due to kit pre-assembly.  

The Immergas  Range of flat plate collectors offer excellent value as they have a low cost per kWh of output and a high efficiency. The collectors are also very easy to transport and handle as the tubes can be disconnected from the collector manifold.

Kits may be combined with suitably sized twin coil water heaters to provide a complete solar water heating solution.
Basic SOL V2 Solar Package includes:
1 CP4 XL Flat-Plate Collector (2.52 m2 of gross surface) complete with 1 aluminium support frame for one vertically installed collector
Single low consumption pump station with safety valve 6 bar and flow rate regulator (1-6 l/min) with relative connection kit
Solar central unit with temperature probes (Storage Tank Unit and Collector)
18 litre expansion vessel with accessories
Complete hydraulic fittings for mounting the collector
¾" adjustable thermostatic mixing valve
1 tank of 20 kg of premixed glycol
4 brackets for slates and tiles for planar installation on sloped roofs with relative fixing accessories
Water Heating Tank and piping kits are available as accessories.   
---
Downloads
Brochure
CP4 XL Manual
Inoxstor V2 Manual
---
Please note that products may differ slightly from the images shown.