24 Tube Thermosiphon Solar 240 litre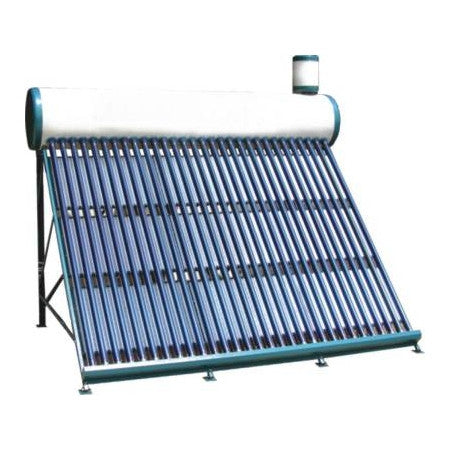 Sold out
---
This thermosiphon solar water heater is ideal for applications where a simple, inexpensive solar water heating system is required. It is ideal for farms and applications such as holiday homes and campsites.
Features:
Stainless Steel tank - 240 Litre capacity with 50mm insulation.
24 x Vacuum Tubes 1800mm long (3.3m2)
Painted galvanised steel frame with stainless steel fasteners.
Contains 1.5 kw Immerson heater with inbuilt thermostat. ON60 °C/OFF 80 °C
May be connected to an additional heat source such as a boiler if desired
This is a special offer stock clearance and limited stocks remain - first come, first served.   Note: This clearance item is priced to sell and no additional trade discount applies. Acceptable payment methods: In advance - Credit Card / Bank Transfer. Clearance items may be used/demo/refurbished but are in full working order and come with a 90 day warranty. The standard RVR return policy applies.
---
Click to download:
RVR Solar 240l Thermosiphon instructions
RVR Solar - Thermosiphon solar water heating for farms brochure
---
Please note that products may differ slightly from the images shown.