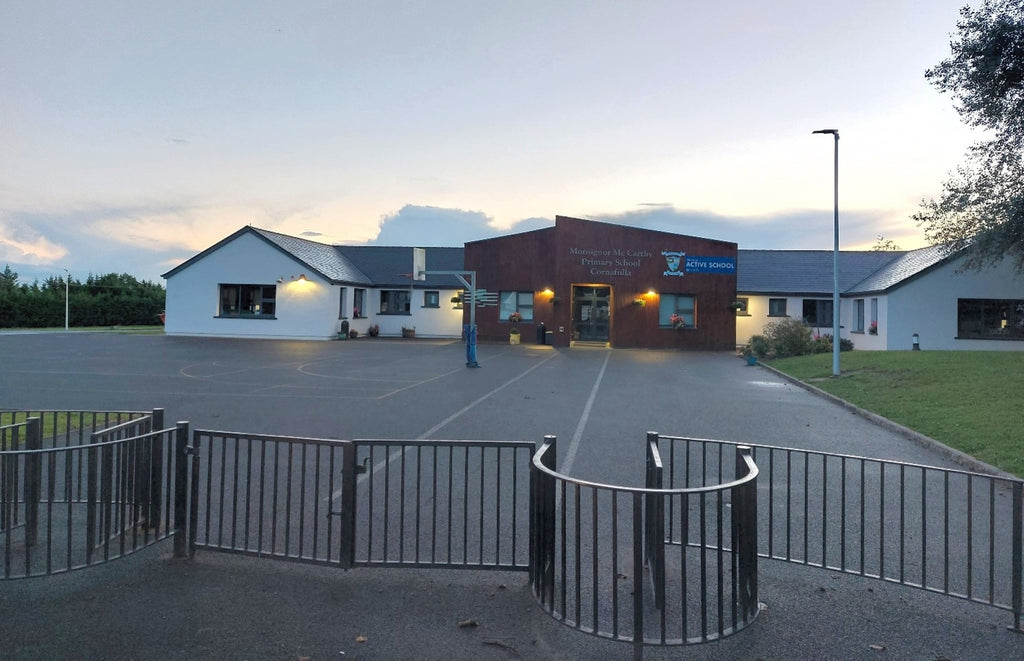 Founded in 1843, Cornafulla National School is a mixed primary school near Athlone. It has more than 290 pupils.

Cornafulla National School was one of six schools initially selected to participate in the 2021 €14 million DECC/SEAI Schools Retrofit pathfinder programme. The upgrades targeted a Building Energy Rating of B, 50% energy efficiency improvement, and 50% emissions reduction. RVR has provided heat pump solutions for two of the six projects.

Two Thermocold MEX EXR 130 heat pumps were installed for heating in August 2021 along with a dedicated Mitsubishi Ecodan monobloc heat pump for hot water production.


The system was designed as a hybrid system with the existing boiler providing additional capacity at times of peak demand.
It was a stipulation of the project that 90% of the heating load was to be provided by the heat pumps. RVR Energy Technology Ltd conducted extensive modelling in advance of the project commencement to demonstrate that this aim would be satisfied.

MEX EXR units are characterized by an extended operating map and can reach high outlet water temperatures even at low outdoor temperatures. The ability to provide 65°C water at an outdoor temperature of -10°C allows operation year-round with medium or high-temperature heat emitters.

Thermocold EXR type heat pumps are suited to new build and retrofit applications. They are available in capacities from 23kW to 180kW and may be cascaded where larger outputs are needed. They can maintain flow temperatures of 65ºC with outdoor air temperatures as low as -10ºC.
Further information is in the case study below.
Download case study - Cornafulla National School
More information
Thermocold is a leading European manufacturer of chillers and heat pumps. They were founded in 1995 and have their headquarters in Bari, Italy.  Thermocold is a subsidiary of Trane Technologies (formerly Ingersoll Rand Climate Division).
Thermocold provide a wide range of commercial heat pumps ranging from smaller capacities to very large models.  Four pipe and Six pipe options are also available, as well as a complete range of chillers.  Follow the link below to learn more.