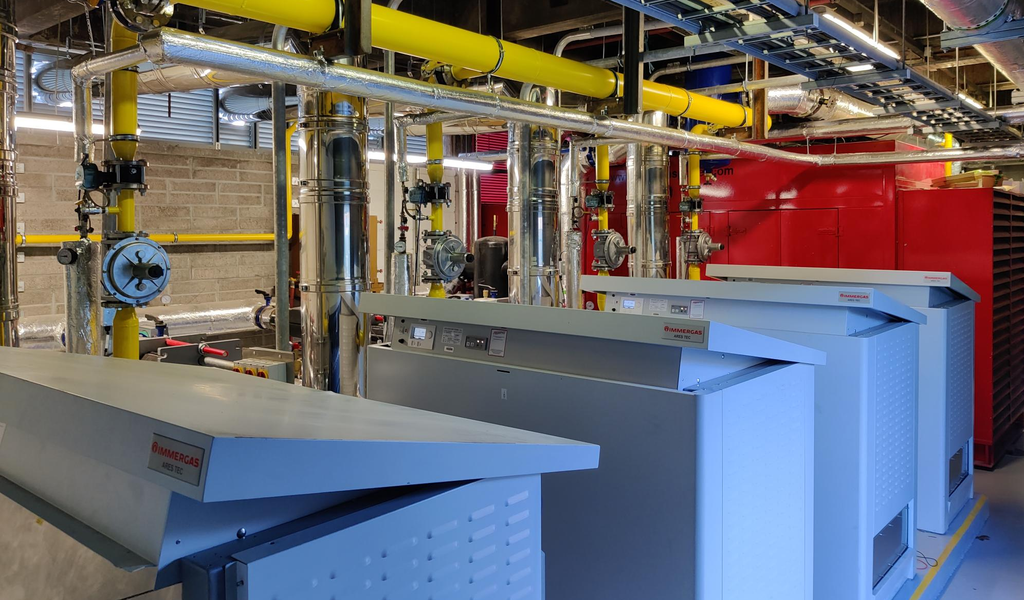 MTU is a multi-campus university with six campuses across the southwest region of Ireland with over 18,000 students.
In 2021, MTU planned to remove two existing inefficient gas boilers at their Cork Campus (previously known as CIT) and replace them with energy-efficient modular condensing boilers. Four Immergas Immergas Ares Tec 900kW boilers were chosen for the project.  RVR Energy Technology supplied and commissioned the boilers and associated heat exchangers
The Ares TEC range is the perfect solution for all gas-fired commercial applications.  The compact and modular design of the boilers helps maximise the efficiency of the boiler plant, minimise running costs and achieve a high capacity from a small footprint.    
Capacities from 150kW to 990kW are available.  The Ares TEC provides excellent load matching due to the high levels of modulation when installed in cascade. The modular design also provides high reliability as each module can operate independently when required.
Further information is in the case study below.
Download case study - MTU Cork Campus
More information
Immergas are a major European manufacturer of heating products.  Their headquarters and main manufacturing plant is located near Parma, Italy.  They have manufactured over 8 million heating appliances since they were established in 1964. 
Immergas Victrix Pro boilers are well known in the Irish market as one of the go-to solutions for wall-hung condensing boiler cascades.  The Ares Tec provides a compact and proven floor-standing alternative.
For commercial applications, Immergas offer the Magis M Monoboc heat pump range.  Available in capacities of up to 30kW each, with full Ecodesign data at 35°C, 55°C (EN 14825) and for DHW (EN 16147), the Magis M range offers a great solution for space and/or water heating in many light commercial applications.
Victrix Pro Wall-hung commercial boilers
Ares Tec floor-standing boiler range