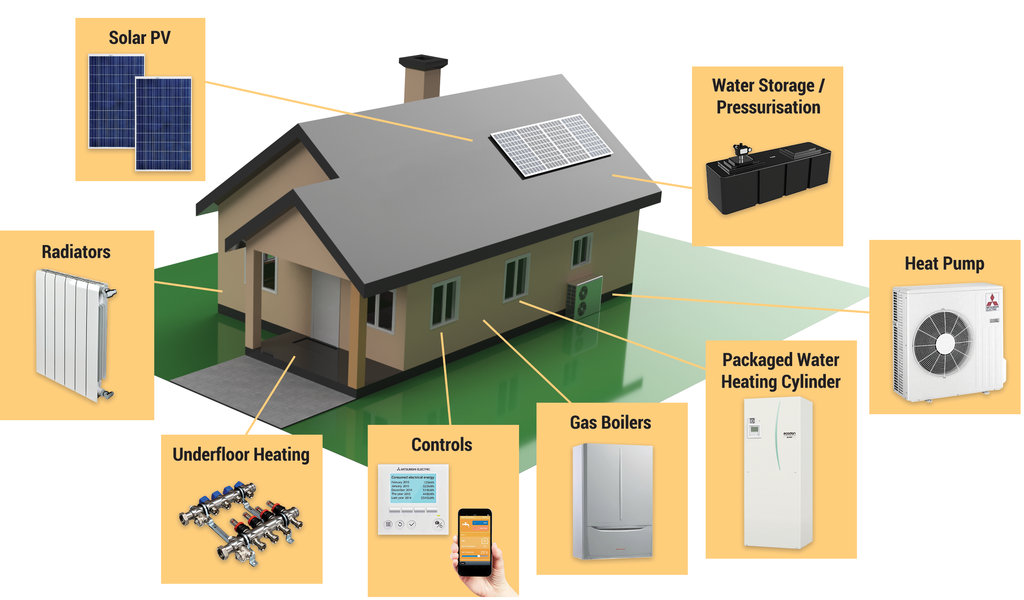 For multi-unit housing development we provide complete House Heating Packages based around either Mitsubishi Ecodan heat pumps or Immergas boilers with Solar PV. These packages also include Radiators/Underfloor, Controls and water storage and pressurisation.
The selection of compatible, high quality products from a single reputable supplier brings peace of mind.

We will work with you to ensure compliance with Part L of the building regulations. All of the equipment can be easily installed by a qualified plumber, and our F Gas registered technicians are available to provide services such as refrigerant piping and commissioning if you need it.
For apartments, we offer a Complete District Heating Solution which includes the CARAGH HeatStation HIU, RVRPAK Packaged Plant and RVR Connect Metering and controls, all of which are made in Ireland.

The Caragh HeatStation offers plug and play commissioning. RVRPAK Packaged plant saves time and money on-site. RVR Connect metering and controls provides a modern metering solution with billing and pre-pay options possible.
If you have a multi-unit housing or apartment project, please contact us. We can provide a complete solution, and offer expert design advice. Contact us today at info@rvr.ie or by phone at 064 6689522.