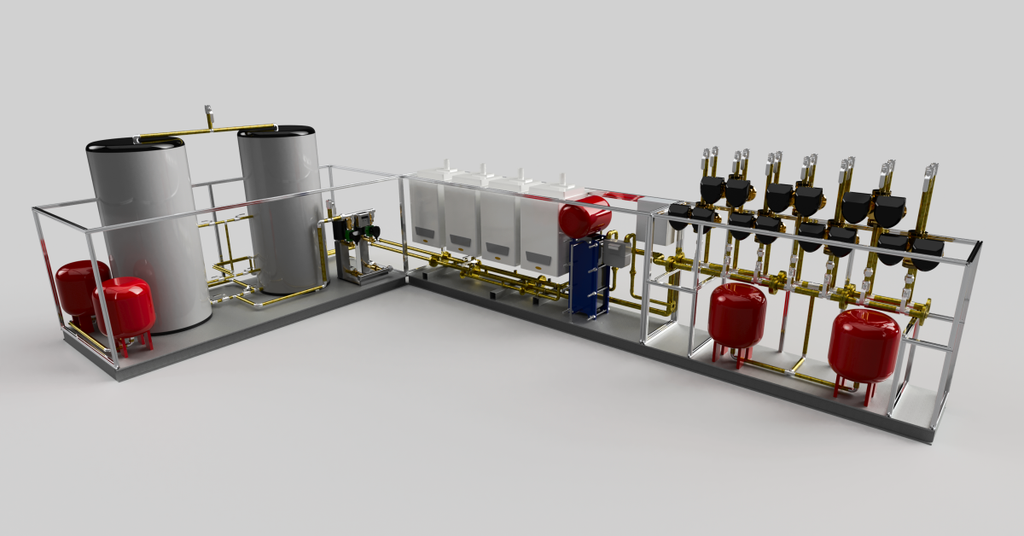 RVR Energy Technology Limited has a full range of solutions for commercial plant rooms, from individual components to fully pre-designed, pre-assembled plant rooms.
Commercial boilers are available in wall hung and floor standing ranges, from 35kW up to 900kW, with cascades of up to 7.2MW possible.
Pre-packaged plant saves time and improves quality. Suitable for indoor or outdoor use, it can eliminate the need for a dedicated internal plant room. It greatly reduces installation cost by removing the need for complicated flue runs, pipe welding and by minimising wiring on-site.
Pre-packaged plant comes with a range of Options. For connection to the system, isolation heat exchangers can greatly reduce the impact of hard water or dirt. Or, for direct connection we offer a range of hydraulic separators. System pressurisation is possible through a dedicated top-up unit, while we offer a range of sensors for pressure monitoring. We can provide a range of heat, gas and electricity meters with MID certification, with either pulse or MBus output. These may be used for billing  purposes if desired. All these components can also be supplied individually if required.
For the Secondary side of the system we have a range of pumps and pre-fabricated pump headers. For water heating, we can supply 316 grade stainless steel tanks up to 3000 litres, instantaneous plate heat exchangers and buffer tanks up to 5000 litres. For applications where more than one heat source is present, or legionella control is paramount, we offer combination tanks. We also offer booster pumps, electric immersions, and blending / three way valves.
Rounding out our plant room offering is the modern RVR Connect control system. A modern, web enabled control system for commercial HVAC applications, this modular, distributed wireless system offers the flexibility to control both simple and complex HVAC systems and does not require a custom panel. In many cases, it can eliminate the need for a separate BMS.
If you have a commercial plant room project, please give us a call. We can provide a beginning-to-end solution, and offer expert design advice. Contact us today at info@rvr.ie or by phone at 064 6689522