Domino EXR heat pumps (59-168kw)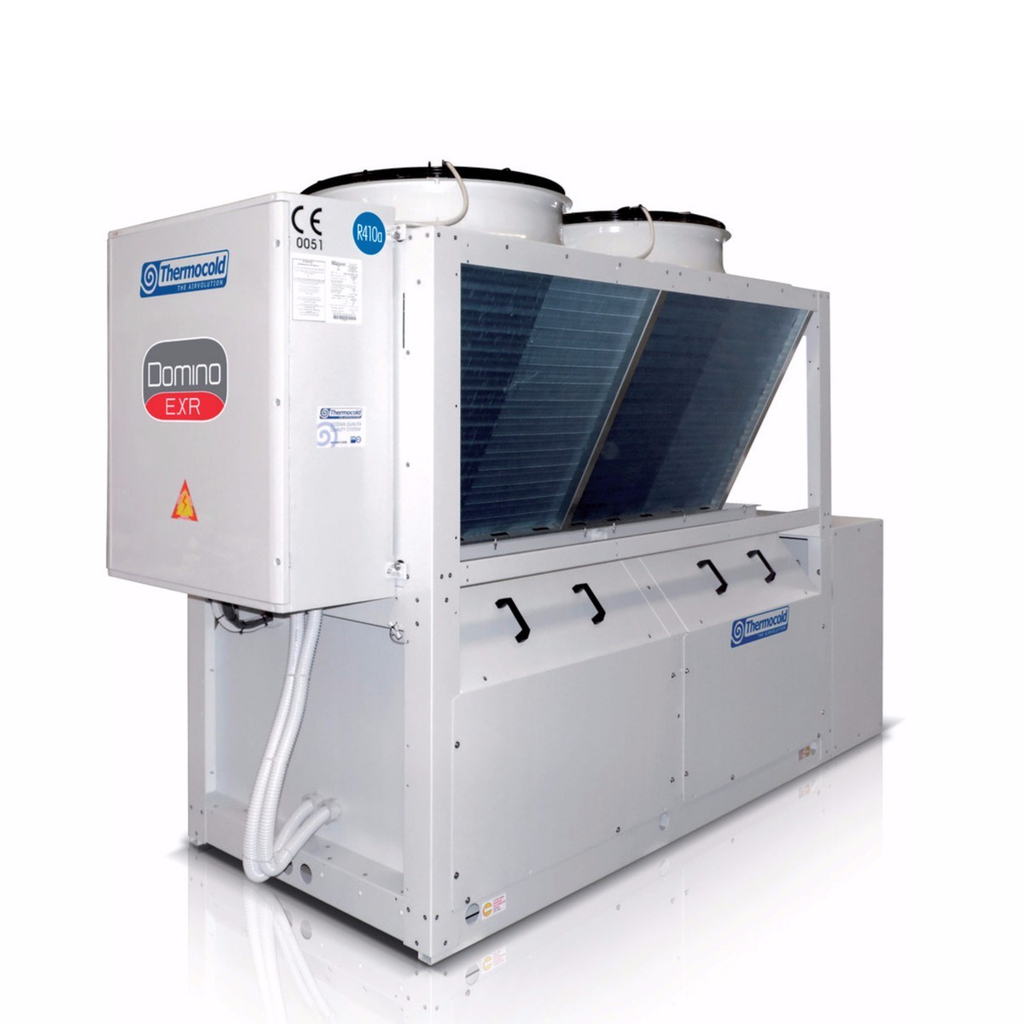 The Domino EXR is a commercial three phase heat pump from Thermocold, a leading Italian manufacturer of chillers and heat pumps. Thermocold is a division of Trane Technologies.

The Domino EXR can deliver up to 65°C and is available in heating capacities from 59kW up to 168kW, and may be cascaded to provide larger capacities.  They are ideal for many commercial applications.
Domino EXR units are characterized by an extended operating map and are able to reach high outlet water temperatures even at very low outdoor temperature.  The ability to provide 65°C water at an outdoor temperature of -10°C allows operation year round with medium or high temperature heat emitters.
The Domino EXR units are designed in compliance with the ErP Directive 2009/125/EC. Ecodesign compliant EN14825 data is available for low (35°C) and medium temperature (55°C) applications.
Features:

Scroll compressor optimized for heat pump operation with innovative vapor injection system.
Propeller type fans with Inverter technology.
Stainless steel AISI 316 brazed plate type condenser complete with differential pressure switch and antifreeze protection electric heater.
Evaporator coils with seamless copper tubes and aluminium fins.
Electronic expansion valve
Advanced microprocessor control
Pump speed control function to optimise inlet temperatures
Reversible - can also provide cooling
Weather compensation
The heat pump includes a hydraulic module with water pump, overvoltage / undervoltage / phase protection, automatic circuit breakers and RS485 communication card.  A flow switch and rubber anti-vibration mounts are also supplied.
A wide range of options and accessories are available.  These must be chosen at time of order and will be factory installed.  These include: 
Soft start
Power factor correction
A range of enhanced fin coatings for additional protection in harsh environments such as coastal installations
"Nordic kit" for operation down to outdoor temperatures of-20°C
Additional trace heating frost protection
BacNET or Modbus LonTalk

Remote control display
Please see options/accessories below for additional information. These heat pumps are built to your specification. Please contact us for a quotation for your specific project(s).
---
Downloads
Sales Leaflet
Operating Maps
---
Please note that products may differ slightly from the images shown.