Magis PRO V2 Split Heat Pump 4-9kW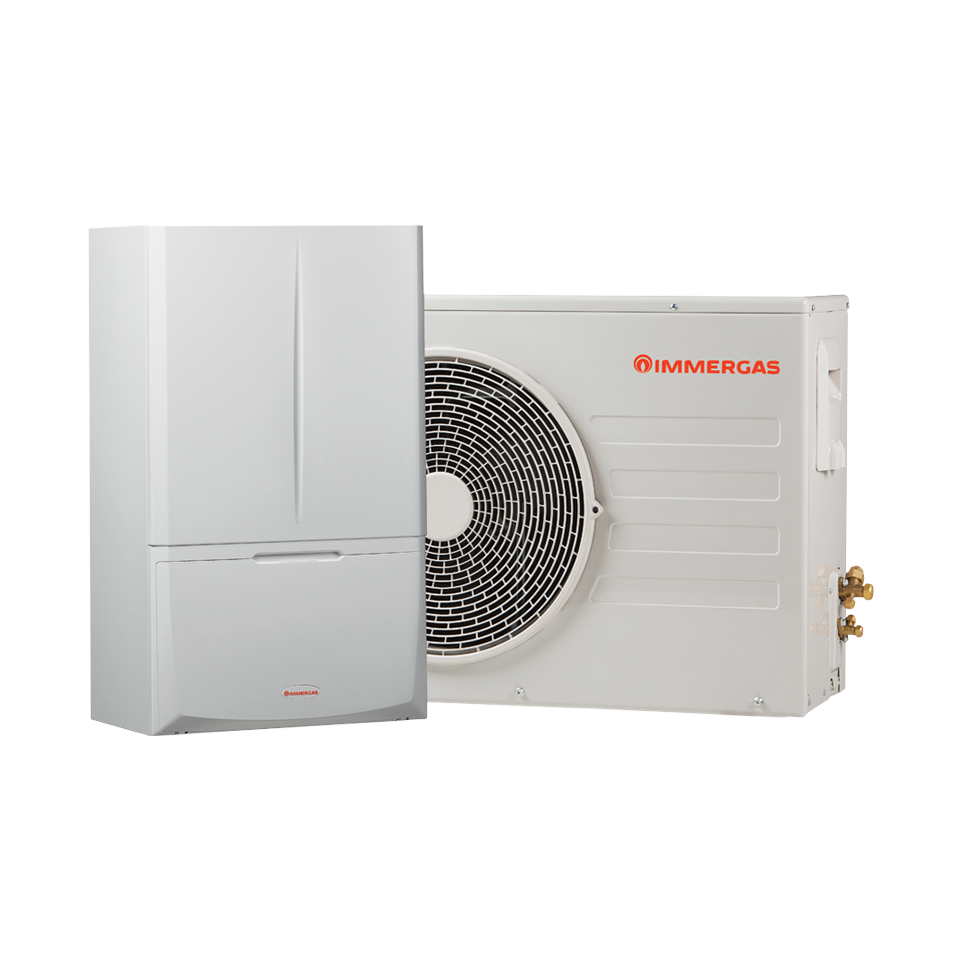 ---
The Immergas Magis Pro V2 is a split type air to water heat pump, with a packaged indoor condensing/hydronic unit and highly compact outdoor unit. The Magis Pro is available in 4, 6 and 9kW units and is suitable for use in many homes and apartments.
The outdoor unit contains the heat exchanger, fan, four way valve and expansion valve.  The refrigerant circuit must be connected to the indoor unit and filled prior to commissioning by your F-GAS registered installer.  The Magis Pro V2 uses R32 refrigerant.
The indoor unit contains a flowmeter and water manifold, low consumption circulator, expansion vessel safety valve and 3-way valve, with the controller pre-configured for the management of up to three zones via an easy to use built in controller.
An optional external remote control panel is also available.  One of these may be mounted in each zone, if desired.

Features:
Split type heat pump with internal condensing/hydronic unit and compact outdoor unit
Inverter driven rotary compressor offers excellent efficiency
Variable speed helicoidal three blade fan with brushless motor
Water flow temperature up to 65ºC (CH) / 55

ºC (DHW)

Operates with outside temperatures as low as -20ºC
Can manage up to three heating zones (1 direct and 2 mixed)
Second mixed zone available as an option
Built in control of hot water and legionella management

ErP compliant low energy circulation pump
Built in expansion vessel and safety valve
Low maintenance and quiet operation
R32 refrigerant
Available Options
3kW electrical resistance kit
Two or three zone distribution manifolds
Relay interface kit
---
Downloads
Sales Leaflet
Manual(Indoor Unit)
Manual (Outdoor Unit)
Technical Sheet
---
Please note that products may differ slightly from the images shown.
Ecodesign / Ecolabel
Magis Pro 4/6/9 V2
35oC    
55oC     

Do you want a heat pump for your house?
RVR Energy Technology has been heating Irish buildings for over 40 years. Let us put our experience to work on your project.

Send us your details now and we'll create a comprehensive proposal and quote for you.
I need some technical information
Our technical catalogue is a handy download for installers and other technical customers.

It contains technical information for our entire range of domestic heat pumps, radiators and underfloor heating.